Budget 2018 was announced 2 days ago on 19 February 2018. Took us a while to digest everything, especially the 2% GST hike despite the budget surplus we got. Nonetheless, after 2 days of reading, these are some of the infographics that we thought you should know about Budget 2018 that will affect you. The list is not exhaustive, there are many other things that we did not include like 10% increase in tobacco products and increase in maid levy because they don't really affect the majority of the people. But if you want to know more, there are 2 links below you can click to find out more.
THE GOOD
SG Bonus for all Singaporeans above age 21.
I guess this is the most important part of the whole budget. The part that we are waiting for where the government will announce how much it will be giving us back. This time it is called 'SG Bonus' and is given to all Singaporeans based on their annual Assessable Income.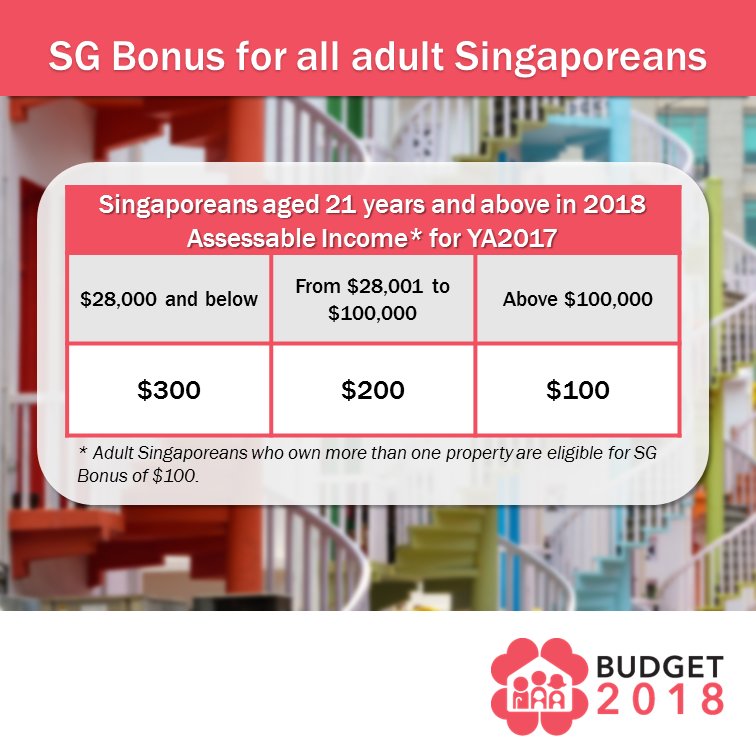 GST Voucher (Cash)
In addition to giving you a 1-time cash bonus, Singaporeans above the age of 21 will also be getting a GST Voucher (Cash) this year. If you own not more than 1 property & its annual value does not exceed $21,000 and your Assessable Income for FY2017 (which is income for the year 2016) is not more than $28,000, then you will get this extra money in August 2018.
Source:
GSTVoucher
GST Voucher (U-Save)
The utility bill rebate scheme. Those who own more than 1 property or private property are also not eligible for this GST Voucher. This voucher will be paid in April, July, October, and January.
Source:
GSTVoucher
Enhanced Proximity Housing Grant
Families buying a resale flat near their parents or children will now receive $30,000 (previously $20,000) worth of grants. Singles who buy a resale flat WITH their parents will get grants of $15,000 (previously $10,000) and those who buy resale flat NEAR their parents will get $10,000 in grants. The definition of 'near' has also been revised from '2KM' to '4KM'
Source:
Channel News Asia
Service & Conservancy Charges (SCC) Rebates
Households living in HDBs will receive at least 1.5 months of SCC rebates from Budget 2018, the same as last year.
Source:
Channel News Asia
THE BAD
Increase in GST by 2%
GST will be raised from 7% to 9%. While GST increase is bad - there is no doubt about it, it won't be coming anytime soon. The increase is scheduled to be implemented between 2021 to 2025. Meanwhile, shop till you drop while you can before the increases kick in! Although GST will increase, more money will also be set aside to help those the middle and lower income household cope with the increase in GST. An extra $2 billion will be set aside for GST Voucher schemes to help the lower-income households cope with the increase in GST. Despite the increase, our GST is still one of the few lowest among the Asian countries.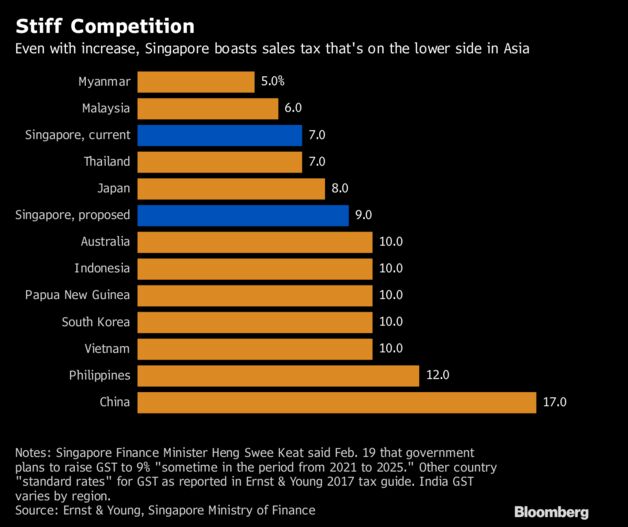 Increase in Buyer Stamp Duty (BSD)
If you are looking to buy a home that cost more than $1million, then you better be prepared to pay extra 1% of BSD for any amount above $1million. This is to ensure that those who can afford to buy a more expensive home pays more taxes to make society more equitable. This probably affects more for those buying private properties and less on those buying HDBs. Then again, HDB prices are also rising, so maybe it won't be soon before HDBs also hit that $1million bracket.
Source:
IRAS
Recommended Post:
Save $ in Singapore Savings Bonds or CPF?
Remember to offer your opinions.
I
f you don't put your two cents in, how can you expect to get change?
Have a feedback? Tell us now!
Subscribe to us or
Follow us:
InvestmentStab on Facebook